Ellisys USB Explorer 350
USB 3.1, PD 3.0 and Type-C Protocol Test Platform
Note: Full USB Type-C support offered with included Type-C adapters (link)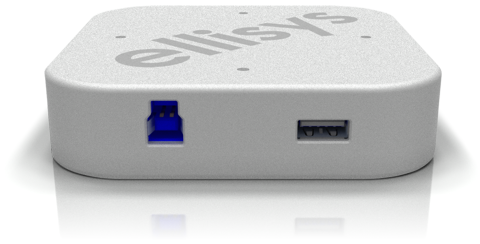 The revolutionary Ellisys USB Explorer 350 (EX350) is a super-compact yet sophisticated and comprehensive protocol test and analysis system for USB 3.1 (Gen1 and Gen2), USB 2.0, and USB Power Delivery 3.0. Full support of USB Type-C (including CC and Vconn) is provided with an adapter and cables.
With many innovative and exclusive features, the USB Explorer 350 meets the demands of today's technology developers by providing unmatched coverage for protocol analysis, traffic generation, and compliance testing for emerging USB technologies.
The hardware is economically optimized to perform analysis, active emulation of port traffic, and automated compliance testing.
Videos
November 2013: Synopsys Demonstrates Industry's First SuperSpeed USB 10 Gbps Platform-to-Platform Host-Device IP Data Transfer
Key Points
Broad specifications support: USB 2.0 (1.5, 12, 480 Mbps), USB 3.1 (5, 10 Gbps), USB Power Delivery 3.0 and USB Type-C 1.3


Multi-function: Same unit can operate as protocol analyzer, host / device / sink / source emulator, as well as compliance tester, enabling flexible allocation of units depending project evolution


Compact: The unit can be placed optimally even on the most busy environment, which is particularly critical with tight margins of USB 3.1 at 10 Gbps


Perfect Accuracy: High precision clocking components coupled to Ellisys' brand new protocol analysis engine provides industry's unmatched accuracy


Unequaled Software: Ellisys powerful yet easy to use multi-protocol analysis software offers the most complete feature set of the industry, including essential features such as Instant Timing for precise timing analysis and Instant Throughput for performance characterization


Integrated Logic Analysis: Logic signals analysis concurrently to traffic capture opens a new debugging dimension to development engineers by visualizing outputs of their FPGA or ASIC


Free Maintenance: free lifetime updates as well as free fully-featured viewer software with unlocked hardware that can be used on any computer, supported from engineers to engineers
Typical Setups
Analysis Setup
The USB Explorer 350 is connected in a logically passive mode to record traffic and bus events passing between host and device. The analyzer provides same-link concurrent support for USB 3.1, USB 2.0 and USB PD, as well as concurrent Vbus tracking and logic analysis, all perfectly synchronized and presented in the Ellisys analysis software.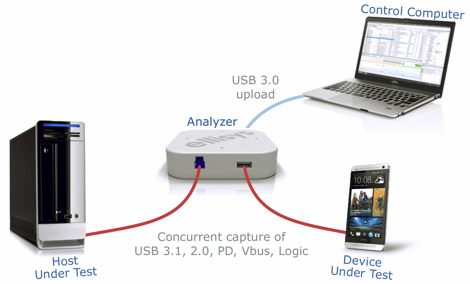 Host Emulation Setup
An USB Explorer 350 acts as generator while the second unit acts as passive protocol analyzer. The generator emulates a USB host with PD dual-role Provider/Consumer support, while allowing the user full control the behavior, including arbitrary packet and error injection. The analyzer records all traffic and gives real-time traffic information.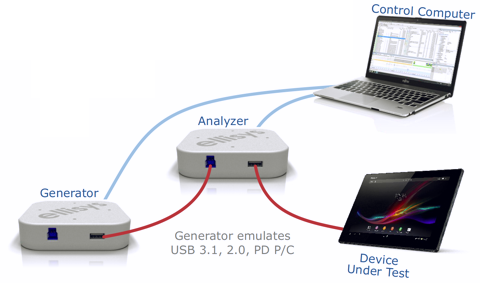 USB Type-C Configurations
Full support of USB Type-C is added with an adapter board and cables. In analyzer mode, the Ellisys EX350 supports the capture of CC traffic and tracks as well CC and Vconn voltage, to ease debugging of attachments and detachments.
In generator mode, the EX350 supports the emulation of all Power Roles (Sink, Source, Dual Mode) as well as all Data Roles (DFP, UFP, DRP). In addition, the EX350 can emulate an e-marker cable, and can test e-marker cables even without extra UFP or DFP.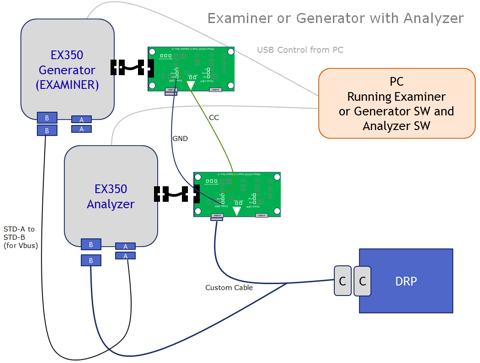 The available configurations are shown in this document.
Protocol Analysis
Protocol analysis is accomplished non-intrusively, using next-generation hardware capture technology, including the use of adaptive equalization and precision impedance matching. The hazards of signal retiming are eliminated.
The powerful EX350 concurrently captures USB 2.0 traffic, USB 3.1 traffic (Gen1 and Gen2), USB Power Delivery 3.0 traffic, as well Vbus characteristics and logic signals. The integrated logic analysis provides developers with a new dimension enabling them to efficiently visualize external digital signals such as outputs of their FPGA / ASIC in addition to their USB traffic.
Captured traffic is presented real-time by sixth-generation Ellisys application software, intuitively detailing concurrent traffic, protocol sequences, performance criteria, error conditions, electrical characteristics, timing details, USB standard / class decoding, and more.
Traffic Generation
Emulation of USB host, device, and hub traffic as well as USB Power Delivery sink and source traffic is accomplished using dedicated applications that simplify these complex tasks. Sophisticated software stacks drive the emulation using ultra-fast processors specially designed for these tasks.
A wide array of features are provided for error injection scenarios in order to test software and hardware corner cases and margins. Performance characterization is provided by specialized hardware that is optimized to stress receiver buffer management, credit logic, and application software.
Compliance Testing [Option]
Ellisys participates closely in USB-IF compliance groups and is dedicated to provide best-of-breed compliance testing solution for USB 3.1 and USB Power Delivery 3.0.
This sold-separately compliance software embeds tens of test cases covering various aspects of the physical layer, link layer and protocol layer. The same setup is used at compliance workshops, making it the perfect tool for pre-compliance testing.
Test results are pass/fail, annotated with descriptive detail, and are summarized in a convenient HTML-formatted summary report upon completion of testing. Protocol traces from each test can optionally be captured automatically with the protocol analyzer, providing for quick and in-depth analysis of test results.
Examiner is an essential tool for IC, IP, or device manufacturers preparing for certification. Examiner is not only useful at the end of the development cycle, but from the beginning to the end for ensuring non-regressions with new improvements.