USB Explorer 200 - Feature Tour
Data and power lines state
The USB analyzer displays and measures data and power lines states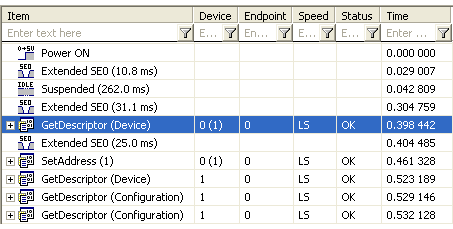 This example shows the different electric states that detect the connection of a USB device and then perform its enumeration.
More details on the enumeration
The Power ON element indicates the detection of the power supply provided by the host. This event is followed by an Extended SE0 state caused by the two pull-down resistors of the host. The peripheral then activates its pull-up resistor to signal its presence, what entails a new state change. After detection of the peripheral, the host emits a new Reset before continuing the enumeration fixing the address of the peripheral. We notice on the previous screenshot that about 500 ms are necessary before starting the enumeration.