Ellisys Bluetooth Tracker
Ultra-Portable BLE and Wi-Fi Protocol Analyzer

Industry's First Wideband Bluetooth Low Energy sniffer with concurrent capture of Wi-Fi 802.11 1x1 a/b/g/n, raw 2.4 GHz spectrum, HCI (UART, SPI), WCI-2, logic signals, and Audio I2S.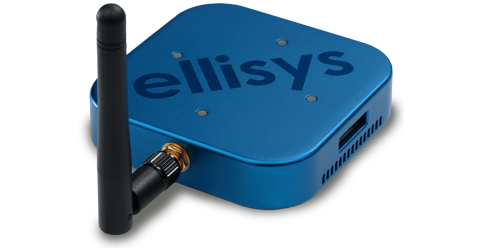 Key Points
All-in-One: concurrent capture of Bluetooth Low Energy, Wi-Fi 1x1, raw spectrum, HCI and logic, all synchronized to sub-microsecond precision
Wideband Capture: rock-solid capture of all Bluetooth Low Energy channels
Extremely Compact: pocket-sized at 7.5 x 7.5 x 1.7 cm (2.9 x 2.9 x 0.7'')
USB Powered: ultimately portable, convenient and environmentally friendly
Reprogrammable Digital Radio: support for new specifications with a simple software update, without hardware changes
Wi-Fi: debug your Wi-Fi a/b/g/n and BLE connections simultaneously, as well as coexistence
Raw 2.4 GHz Spectrum Capture: characterize the wireless environment and visualize interferences
Professional Software: use the acclaimed, widely adopted and highly flexible Ellisys multi-protocol analysis software.
All Protocols and Profiles: best-of-breed protocol decoding
Logic Analysis: visualize digital signals such as GPIOs, interrupts, debug ports, etc, concurrently and perfectly synchronized with your BLE and Wi-Fi traffic
Free Maintenance: free lifetime software updates as well as free fully-featured viewer software with unlocked hardware that can be used on any computer
Innovative Tool for Demanding Users
The pocket-sized, bus-powered Bluetooth Tracker designed to support concurrent capture and analysis of Bluetooth Low Energy and Wi-Fi communications, as well as a wide variety of wired interfaces, including logic signals, host controller interface (HCI) protocols (UART and SPI), Audio I2S, and WCI-2, all visualized over the widely adopted Ellisys software suite.

" As Bluetooth Technology continues to evolve, it is critical that Bluetooth developer tools such as those made by Ellisys meet the demands presented by these changes as well as supporting the testing needs of engineers working to implement the next generations of Bluetooth products," said Miles Louis Smith, Senior R&D Engineer, Test Group, Nordic Semiconductor. "We have been using Ellisys Bluetooth tools for many years and we are excited to see the Bluetooth Tracker on the market just in time for Bluetooth 5 and the coming wave of IoT developers and devices. "
" We are excited to hear about the new Bluetooth analyzer offering from Ellisys," said Sandeep Kamath, Software Product Manager, Wireless Connectivity Solutions, Texas Instruments (TI). "The quality of both their hardware and software, as well as their ability to continuously support the latest Bluetooth core specifications and profiles, have made Ellisys' protocol analyzers an important tool for Texas Instruments during development and testing of our Bluetooth low energy protocol stack. "
" Test and characterization of new Bluetooth silicon and end-products is a comprehensive process requiring a diverse set of engineering expertise and an array of specialized, analytical tools," said Muthu Kumar, Wireless Firmware Engineer, Intel Corporation. "The Ellisys plays an important role in this process by delivering a clear and complete understanding of the behavior of the ever-evolving Bluetooth technology from both hardware and software perspectives, all while providing exceptional ease of use. "
Industry's First Reconfigurable Bluetooth Digital Radio
With its innovative reconfigurable radio, the Ellisys sniffer can uniquely be updated by software to support changes in the specification, without any change to the hardware, and even without any interaction from the user. For instance, this flexibility allowed for the addition of next-generation Bluetooth baseband features several months before the specification was officially released. Additionally, the Tracker comes with free lifetime software updates, so all customers can benefit from these great additions free-of-charge!
Industry's First All-in-One Sniffer
Capturing wireless traffic is a very important aspect of Bluetooth debugging, but other information is equally important for understanding the big picture. The Ellisys Bluetooth Tracker sniffer supports one-click concurrent and tightly synchronized capture of:
Bluetooth Low Energy
Wi-Fi 1x1 802.11 a/b/g/n [Enterprise]
2.4 GHz Spectrum [Pro]
UART HCI (2 ports) and SPI HCI (2 ports) [Pro]
Logic signals [Pro]
Wireless Coexistence Interface 2 (WCI-2) [Enterprise]
See it in Action!
Ellisys participates and sponsors Bluetooth UnPlugFest events, and as such, provides equipment and expertise at every event to ensure participants have the right tools at the right time. UPFs are also a good opportunity to see Ellisys sniffers in action. Feel free to register and attend our one-to-one training session and our public Debug in Action training.
More
» Screenshots
» Technical Specifications
» Software Download
» Purchase